4 Key Elements to Consider When Building Your Technology Road Map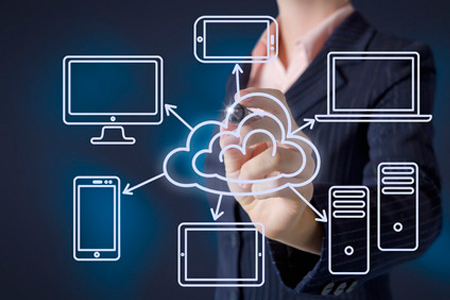 Jul 27, 2018
In today's technology-driven world, it's essential for any organization to have a clear strategy to unify workforce computing and devices. To be useful, a plan must directly relate to your organization's goals, while also taking your IT infrastructure into account.
The following offers a more expansive overview of why integration of an organization's people, devices, apps and data should be a component of the creation of a technology road map. This plan should provide a flexible strategy for your organization to stay ahead of today's rapidly evolving workplace technology. Finding a partner with expertise in integrating business technologies, like Omni Data, will ensure that your plan is based on an objective view of all elements of your organization. The four elements of a technology road map that are detailed in this white paper are:
The four elements of a technology road map that are detailed in this white paper are:
1. People
71% of American workers are not engaged or actively disengaged from their work.

Source: Gallup
According to Gallup, 71% of American workers are not engaged in, or actively disengaged from, their work.
This could be because when businesses try to update and renovate their workspace and devices, they do not take into consideration the employees who have to work with them. Workers must be briefed on what new technology is being adopted and brought into the workplace.
To foster an environment of productivity and higher levels of performance and engagement, you must ensure that all levels of employees-not just those in management positions-are kept up-to-speed with evolving technologies.
2. Devices
Regardless of BYOD policy,
67% of people use personal
devices at work."

Source: Microsoft
Workplaces are becoming increasingly device-dependent. Having a tech-savvy operation and keeping up with evolving technologies is challenging yet essential for the success of businesses in today's competitive economy. Make sure your workforce device policy evolves with new technology.
Implementation of BYOD policies is also necessary for your work environment. According to Microsoft, 67% of people use personal devices at work, regardless of the office's official BYOD policy. You must have a security strategy that allows cohesion among devices and supports mobile, personal, and work device harmony.
3. Applications
Business applications increase…

N employee responsiveness
N resolution of internal issues
N worker productivity
Applications are becoming increasingly integrated into the workplace as a new source of productivity and organization. In an article published by Cisco Systems, business applications have been shown to increase employee responsiveness, decision-making speed, and worker productivity.
Many companies have already implemented, or are expanding their implementation of, a wide variety of applications, including many that enable mobility and collaboration. If you want your organization to keep up with the latest technology trends, while also boosting worker productivity, it is important to factor applications into your workforce computing strategy.
4. Data
Data is important for obvious reasons; if employees are the lifeblood of any organization, the data is the heart. A company depends on the data and information it generates to stay relevant and competitive in any industry.
According to
Gartner, "70% of business transformations fail."
The development of policies that generate or store data safely, while also ensuring data is accessible across platforms and devices is an essential component of your organization's success. Make sure your IT and workforce computing strategy includes disaster and data recovery services because your sensitive data is far too valuable to risk.
According to an article published by Gartner, 70% of business transformations fail. By remembering the importance of these four key factors in the creation of your organization's workforce computing strategy, you can prevent your plan from becoming one of those failed transformations.
Let us help you create the ideal technology roadmap for your organization!
Click to request a Managed Services assessment and let us help you start the process of creating a technology roadmap for your business: https://www.myomnidata.com/contact-us/
Omni Data LLC
West Haven, Connecticut
T: 203-387-6664 | W: www.myomnidata.com