There's more to access control than locking a door. Omni Data offers a complete array of access control systems, including enterprise cloud-based software management platforms that let you set access protocols across all locations by schedule, person and groups.
We design biometric systems in conjunction with many of the most trusted brands in the industry. Access can be controlled via biometric and contactless technologies, tablets, smart watches, and more. We also offer end-to-end encryption with multi-level security, and systems that easily integrate with your existing software and IoT hardware. Using the latest applications of these technologies, we're able to help assign specific personnel access to specific doors and determine who is entering the building at what time.
By integrating cloud-based solutions and IP Video, we further enhance your access control capabilities, We provide high functioning door intercoms with two-way audio/video access; remote door release functions; smart electronic door access that recognizes which doors are used and when; and alarm systems with fully integrated temperature sensors, glass breaks, moisture alerts and more. Omni Data creates an environment that enables your personnel to easily monitor and respond to incidents as they occur.
We work with you to enable traceable access for approved personnel without
compromising sensitive areas to unwanted or unauthorized people. This includes multi-stage access systems, timestamping, unique user profiles, internal and external monitoring, automatic system lockdowns and even database and technical management of remote access control systems.
In-Depth Expertise
Together our team has decades of experience in designing, engineering and implementing complex access control systems.
Thorough Training
Our factory-trained technicians ensure that your systems are maintained according to factory standards.
Advanced Technology
We're adept with all leading-edge technologies, including biometrics, Bluetooth, vehicle access systems and more.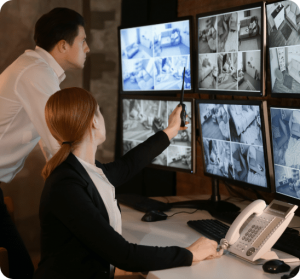 TRUSTED EMERGENCY RESPONSE
Our 24 hour, UL-listed, Five Diamond monitoring center is always available in the event of an emergency. In the case of an emergency, operators will call the property and keyholders to confirm the event and then contact the proper responding authorities.
REQUEST A FREE CONSULTATION